On June 22nd there is going to be a special event at Disneyland to celebrate the 45th anniversary of the Enchanted Tiki Room. I am stupid with excitement about this. Which is weird, because I grew up inside Disneyland - literally and figuratively - and the Tiki Room never really 'did it for me' until a few years ago. I think you have to grow up a bit to appreciate the subtleties and recognize how advanced it was for its time. Otherwise you'll leave shrugging and muttering things about how they should bulldoze the whole thing and add another ride and that the only thing its good for is the air conditioning. I am ashamed of my former self.

But now I am older, wiser, and more mature I am going cuckoo about going to this event. Plus it's right around Kate's birthday - double whammy of awesomeness!

In addition to hoarding pennies to buy some fantastic artwork, I have also been thinking long and hard [that's what she said!] about what to wear. I mean, I have to look cool, right? Or at least like someone uncool trying to pretend to be cool?

I've decided to make a dress, based on McCall's pattern 5137*, after reading about it on various sewing sites (including Dress A Day) where it was praised for being easy to sew and quick to come together. I picked out fabric** from Joann's already and now I just need to start sewing (a mock-up of the finished dress here).

I was browsing all over etsy and various points across the internet for tiki-inspired jewelry and came across the Leeward Lounge, Fred Kroner's website. My brain melted and 42 hours later when I was discovered in a puddle on the floor, Ryan implored me to email Fred about a commission piece. Until you go browse his site (which you MUST), I wanted to share with you a few examples of the hula girl necklaces that he has made for other lucky tiki-philes. The first (below, left) is a roller girl hula girl, which was a custom piece for a roller derby fanatic. Could I love this more? No. No, I could not. They are adorable! They are sassy! They are shiny! And even more - they are all hand-carved and stained. Check out his site for progress pictures and be astounded (please bring a friend, so someone can revive you if you faint).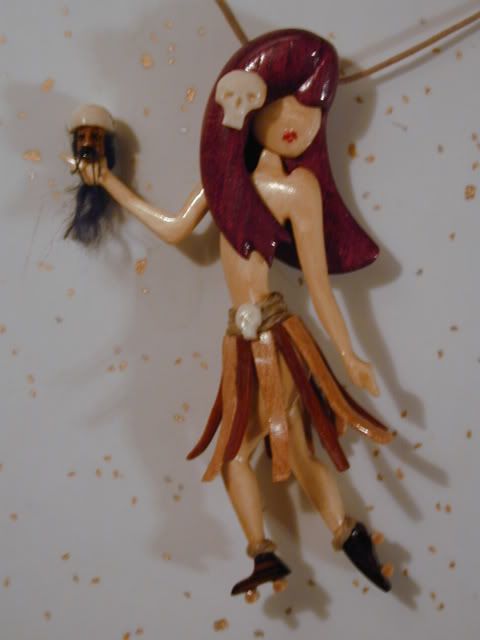 Fred is a super nice guy and so I told him all about the Tiki Room event and my lack of accessories and he agreed to help me out! He is currently hand-carving me some itsy bitsy teensy weensie ukuleles to be made into earrings. Below is an example of past tiny ukes that he has made. They are GORGEOUS! AND as a bonus: he has offered his talents and services to other Tiki Fans and if you act now, he can have them done in time for the big tiki party in June! So act now! Act now! (tell him that I sent you over, so that it will seem like someone is vouching for me being a nice girl.)
Can you believe these? I am going to wear them every day until forever.
*Was also on sale. I picked up this pattern for $8 at Joanns, which is 50% off the list price! **30% off this week!